By now, you must be familiar with shampoo bars and how trendy they are at the moment. Maybe you are intrigued by them and would like to try them out to improve the health of your hair and scalp, maybe you want to live more sustainably, or maybe you are just curious.
Here's 5 reasons to convince you to make the switch!
But first, what is a shampoo bar?
The first shampoo bar appeared in the 19th century, they contained palm fruit oil and coconut oil to wash your body and hair. So the concept of solid shower bars isn't really new and back then they didn't call it "zero-waste" either.
With the growth of the plastic market in the 30s, different types of liquid soap in plastic bottles appeared on commercial shelves such as liquid shampoo, body wash & gels, and liquid conditioners. And since then it has become the norm in all bathrooms. 
Nowadays, shampoo bars are back and better than ever. They have been improved with effective formulas that are suitable for all hair types. However, the share of shampoo bars is still only 0.3% in the current shampoo market. But with the progressive awareness of the disadvantages of liquid shampoo, there has been significant growth in the shampoo bar market share.
Shampoo bar by Nature Bar
1. Shampoo bars are 100% plastic-free
If you are trying to create a zero-waste routine, then shampoo bars are perfect for you! It's a good start in reducing your plastic consumption with a simple everyday product.
Liquid shampoos are packaged usually in single-use plastic (HDPE) bottles. And did you know that more than 550 million empty shampoo bottles are thrown away every year in the US alone? It's estimated that over a lifetime, the average person goes through 800 plastic shampoo bottles. In Europe, Only 50% of all plastic bottles are collected for recycling and only 7% of those bottles are recycled into new bottles although HDPE is highly recyclable. What a mess!
2. No water!
Furthermore, shampoo bars decrease our water consumption significantly. This is because liquid shampoos are composed of up to 90% water. Whereas, shampoo bars do not contain any water because they are made up of concentrated active ingredients. This significantly reduces their ecological impact, as they save huge amounts of water and take up much less space during transportation, also reducing emissions.
3. No toxic ingredients
Besides being plastic-free, we do our best to source high-quality shampoo bars with plant-based ingredients that are highly nourishing for any hair type.
Conventional shampoos are full of chemical ingredients and microplastics that are harmful to your health and our environment. We don't mean to say that any "chemical" is bad, because every ingredient is a chemical, but, liquid shampoos contain ingredients like Sodium lauryl sulfate (SLS) or Sodium Laureth Sulfate (SLES) which can strip your hair of its natural oils, causing your hair to dry out and become damaged. Whereas shampoo bars mainly use Sodium Cocoyl Isethionate (SCI), a derivate from coconut oil, much less harmful to the health of your hair and scalp. 
Besides the surfactants, there are a bunch of additives that contribute to the damaging of your hair, such as sulfates, preservatives, parabens, synthetic fragrances & colors, and other additives from petrochemicals, which are often irritating, can cause allergies, and can even be carcinogenic. Whereas some of the additives in a shampoo bar are plant-based oils, butters, and powders such as Coconut oil, shea butter, and Pink Clay Powder. This makes all the difference in the health of your hair in the long term, we guarantee it! 
Furthermore, the harmful ingredients and microplastics can also negatively affect the environment. When rinsing off your shampoo, those harmful ingredients go down the drain and make their way into the water supply. These harmful chemicals have been found in wastewater, surface water, sediment, groundwater, and even drinking water. Consequently, this harms aquatic life and the animals that drink from this water. Research has shown that such harmful chemicals can change the hormone levels in aquatic organisms, which can cause a variety of health problems, like their ability to reproduce.
Shampoo Creme by UpCircle
4. Save money!
We've talked about how shampoo bars are better for your health and the environment, but did you know that they're also better for your wallet?
At first glance, this kind of product seems more expensive than a liquid shampoo found in supermarkets or drugstores. But it's not! As we've mentioned before, shampoo bars contain no water because they are a concentrated form of shampoo, so you need much less each time you use it. On average, 1 shampoo bar is equivalent to 2-3 bottles of liquid shampoos. So, when compared, shampoo bars tend to be cheaper in the long run. 
Pro tip: Don't leave it in a place that can potentially collect water but keep it on a soap holder, allowing it to drain and dry between each use. This prolongs the lifetime of your shampoo bar 
5. Easy to carry everywhere!
Shampoo bars are travel-friendly! No more risks of leaks or headaches to find containers of less than 100ml to take the plane! Lightweight and compact, shampoo bars are easy and convenient to carry thanks to their small size. Slip it into your luggage or your gym bag, you can take it everywhere with you! Just make sure to use a travel tin so it stays protected in your bag.
Have we you convinced you yet?
As we've mentioned before, shampoo bars are just as easy to use as classic shampoos, but it's a sustainable alternative that is better for you and the environment, so they definitely deserve a chance!
We offer a wide range of shampoo bars; from dry to oily, from normal to sensitive, so there's definitely something in there for you!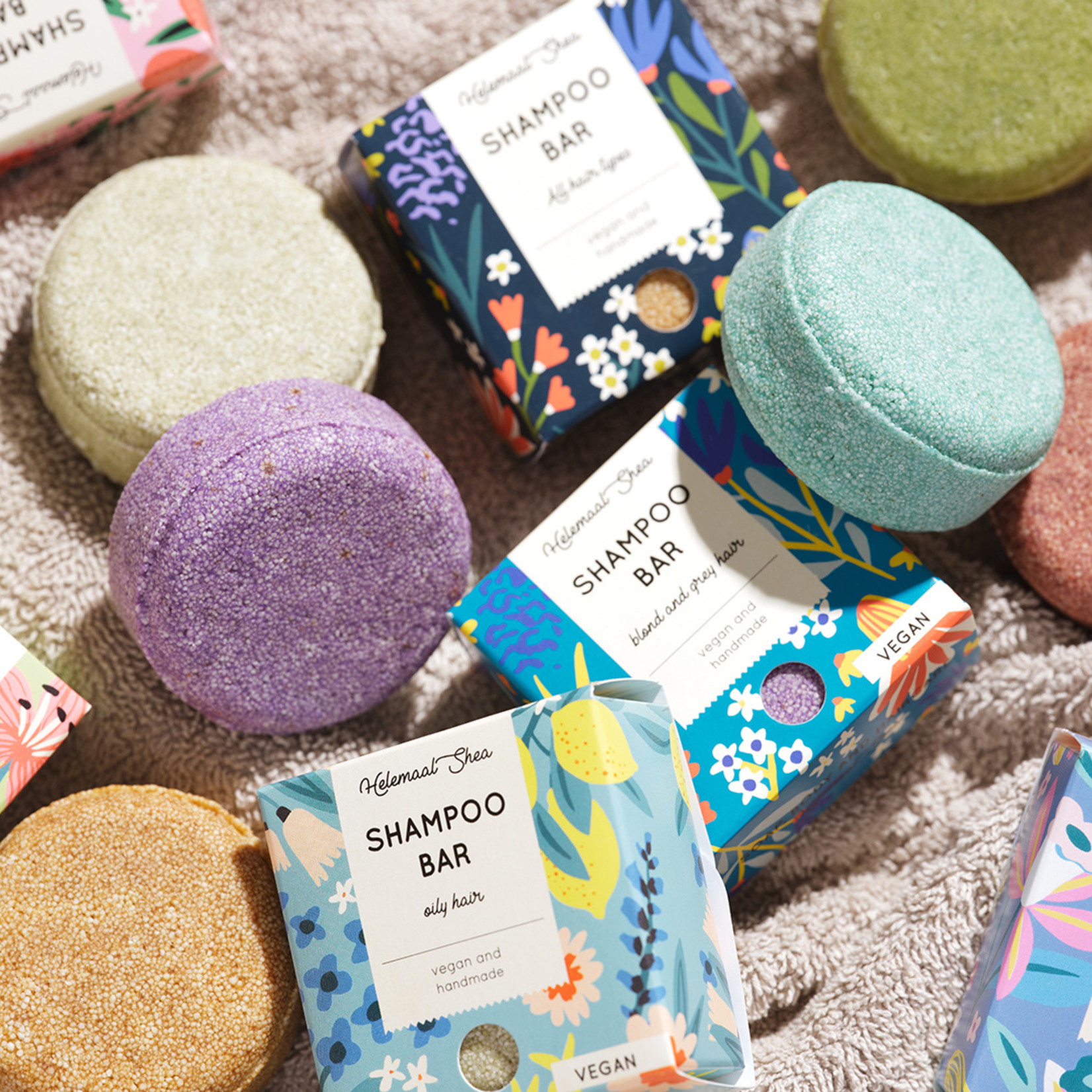 Our range of shampoo bars
In conclusion, our shampoo bars, are high quality, vegan, and cruelty-free, and they contain only a handful of sustainable ingredients. The cherry on top, our shampoo bars are also produced locally to reduce their environmental impact.
So no plastic waste, no nasties… nothing but good things to take care of your hair and our planet at the same time!
FAQ:
Is shampoo bar good for your hair?
A shampoo bar can be just as good for your hair as a liquid shampoo. We try to source shampoo bars that usually consists of natural and nourishing ingredients. We try to avoid ingredients such as parabens

, preservatives, silicones, and phthalates.
How do you wash your hair with a shampoo bar?
Rub your shampoo bar between your hands until it foams (our shampoo bars foam super fast!) Then massage the foam into your hair. Or rub the shampoo on hair in circular motions until there's enough foam. Rinse the shampoo well from your hair.
Where do you keep your shampoo bar?
After use, let the shampoo bar dry well on a

 

soap holder

, allowing it to drain and dry between each use. This prolongs the lifetime of your shampoo bar
How long does a shampoo bar last?
A shampoo bar is equal to 2 or 3 liquid bottles of shampoo. Depending on the size of the shampoo bar you wash between 40 - 60 times